A commercial structure in Francescas on the horizon 2010...
a house in this village full of charm...
And why not you...
The village of Francescas offers some housing estates in the
locality "Les Avarches", every lot about 1000m2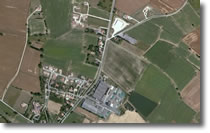 Also building lands for trade and SMES can be offered.
Equipment on place: water, éléctricité, rail and waterways networks, Internet
Francescas is an autonomous village 30 mn from Agen, in a agréble and preserved region, close to all facilities, school, commerces (see here) .
Thanks to WIFI, installed in Francescas, the city council, the school, the labour union of initiative, the library, several associations, firms and the individuals will be able to benefit from the Internet access high debit.
Highway:

15-18 minutes

Airport:

15-18 minutes

Public transport available Francescas-Agen

Public transport available Francescas-Condom

3 times a week- monday, wednesday, saturday
These days lreturn ticket 3 times a day
Terms & Conditions |Links | Homepage |Site Map
e-mailCity Hall of Francescas 2010 -
all rights reserved
Conception et maintenance : e-kommunikation.com
All materials on this website © City Hall of Francesas
Photographs courtesy of e-kommunikation.com ©