Category: Manor house
Constituent parts: cellar; pressoir in wine; stable; accommodation; farm
Epoch of building: Middle Ages; the 16th century; limit the 18th-19th century


The residence built in St Bartholomew consists of a pavilion with sentry boxes and parallel parkings, according to a text of 1711 named by J. Bourrousse of Laffore. The center part of the stone building in the southern part, where were found 2 silos, is the most ancient part. The north part was rebuilt in the 16th century; several junctions are contemporary in these modifications. Property of the family of Bezolles in the 16th century, the manor passes at the beginning of the 17th century to Bazon, barons de Baulens. It is acquired by the brothers of Cos in 1710. The tithe of the church is sold by auction in 1791; having still named as chapel in the 18th century, it disappears then. The home is endowed by a facade organised in turn of 18th and 19th siecles, as well as a wooden staircase. In the French Revolution, St Bartholomw is at the head of an agricultural domain; a big cellar and a pressoir in wine, so also the servant's accommodation were built at backside of the home; three farms (Garros, Rock and Luzy or Eleusis) were constructed at the same level between 1796 and 1809: they are in the single center of building sheltering homes and dependency, divided in length, with central barn, home and cellar d' one quoted, sheds of other one. The Domain is augmented in the siecle 19th, then was divided, finding its final dimension of the end of the siecle 18th.
Description: Farms in ground floor, with facades in gable, covered with roofs with long covered sections.

Private Proprieté.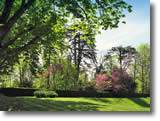 Terms & Conditions |Links | Homepage |Site Map
e-mailCity Hall of Francescas 2010 -
all rights reserved
Conception et maintenance : e-kommunikation.com
All materials on this website © City Hall of Francesas
Photographs courtesy of e-kommunikation.com ©