Vin de pays of COTES DU CONDOMOIS
Region : LOT-ET-GARONNE
Decree : Decree of 26/8/82 changed in 15/03/00, the 05/12/02, 27/08/04, 14/12/05
Type : red wines (60%); rosé ; white
Quantity of red wines and rosé: 3 000 hl quantity white wines: 2 000 hl
grapes black : merlot, cabernet franc, cabernet sauvignon, tanat, cot et fer servadou, syrah N
grapes white : barroque, sauvignon, colombard, listan, mauzac et ugni blanc, gros manseng B, petit manseng B, chardonnay .
area of production : Departement Lot-et-Garonne. Francescas, Lannes, Lasserre et Moncrabeau. Yield 90 hl/ha (white) and 85 hl/ha (the others)
The decree of 25 janvier 1982 has given the starting point of this wien AOC (special proclamation of this decree).
Located in the heart of Gascony, on argilo-calcareous soils, the Côtes du Condomois vineyard benefits from very good sunlight thanks to a warm and dry microclimate favourable to the maturity of the grapes, in particular merlot and tannat, grape varieties used for the wine named Corolle.
The red and rosé wines are easy to drink, fruity and very expressive. The red wines exhale aromas of red berries (strawberries, raspberries, redcurrants) with spicy notes. With an easy but present structure, these wines do have some character while being accessible to numerous consumers. The rosé wines are produced in the same fashion as white wines, that is at a low temperature.

Very fresh, with floral and red berries flavours, these wines are appealing as aperitifs or to complement your meals.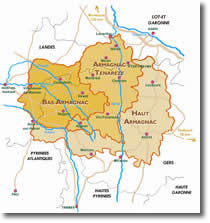 This appellation (Appellation d'Origine Controlee) is extended over three departements. In the Landes, it is the Bas-Armagnac, in Lot-et-Garonne, armagnac called Ténarèze and in the Gers, the Haut-Armagnac.

DECREE OF 6 AUGUST 1936
(J.O du 14-08-1936)
Starting point of the Appelation côntrolée « Armagnac » AOC by the
President of the french Republic.
Ténaréze
While several excellent independent producers exist in the Ténaréze, this central region is home to most of Armagnac's négociants. The soil base in the Ténarèze is harder (clay and limestone) giving spirits that are firmer in their youth. Spirits from the Ténarèze, However, generally have the ability to age longer than those from the Bas-Armagnac. Plantings are dominated by Ugni Blanc and Colombard, and many farmers divert a good portion of their crop into excellent Côtes de Gascogne wines or Floc de Gascogne, the region's equivalent of Pineau des Charentes.

Only the following communes can produce the Armagnac Ténaréze:
Andiran, Calignac (parcelles D224p, D225p, D226 et D228), Fieux, Francescas, Frechou, Gueyze, Lannes, Lasserre, Lavardac (partie comprise entre la Gelise et la Baise), Meilhan, Mezin, Moncrabeau, Nerac, Poudenas, Reaup-Lisse, Sainte-Maure-de-Peyriac, Saint-Pe-Saint-Simon, Sos et Villeneuve-de-Mezin.


Terms & Conditions |Links | Homepage |Site Map
e-mailCity Hall of Francescas 2010 -
all rights reserved
Conception et maintenance : e-kommunikation.com
All materials on this website © City Hall of Francesas
Photographs courtesy of e-kommunikation.com ©