Fieux
Francescas - Fieux: 4 miles
Postcode : 47600
Region : Aquitaine
Department: Lot et Garonne (47)
Population : 331 inhabitants
Here you may find some hotels, restaurants and gite in the region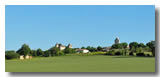 Located between Le Saumont and Francescas, on the hill that separates these two localities, and almost equidistant from one another, there is the village of Fieux, with its castle and church which emerges in silhouette on horizonen .
This village is 30 minutes walk, ideal for make the experience of the environment of Francescas.
This visit will also make you understand the importance of agriculture, because this landscape is very rich in farms.
Fieux is a village which has preserved the atmosphere of different periodes.
The castle houses the town hall and a school and it is possible to visit this historic building.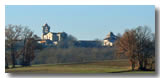 The Mill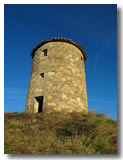 Chateau
History: Castrum mentioned in 1286: he is bound by several family members of Altigiis (Autieges). The castle is the plan of a castle Gascon, confined to a round tower and a square tower, dating probably from the late 13th or the 14th century. Work has been carried out in the 15th century. The castle is divided and sold in 1810. In 1839, the municipality acquires the northern part of the castle, to establish the school and town hall. In 1867, it acquired the southern part, to redevelop the housing of the teacher and the town hall. In 1879, the municipality requesting the restoration of the castle, despite the opinion of the architect advising a reconstruction work was completed in 1882, are made by Vidal, entrepreneur Moncaut, edited by T. Teulère, architect of the district: resumption of the northwest corner and the crowning of the walls with the addition of 132 consoles, opening windows of 6, rebuilding the porch, carpentry, roofing tiles which are sold and replaced by slate in the Pyrenees, delete partitions timber frame and cob. In 1902, the new girls' school occupies one room of the castle. The construction of a class of girls is decided in 1913.

The church
The old church was the center of the village in 1858, she headed prohibited, given its poor condition, and a reconstruction was decided. The council supports the use of materials from the old church to build the new in 1859. The land was acquired in 1861. A painted inscription on the first bullet states that the church was rebuilt in 1863 by Ferjus, contractor, both the architect of the district, teammates-Verdier, Despeyroux being mayor. The roof was restored in 1902. A platform and a staircase in the tower are set in 1890.

A well in the wall of Fieux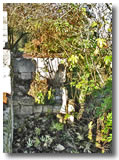 Terms & Conditions |Links | Homepage |Site Map
e-mail City Hall of Francescas 2010 -
all rights reserved
Conception et maintenance : e-kommunikation.com
All materials on this website © City Hall of Francesas .
Photographs courtesy of e-kommunikation.com ©