A commercial structure in Francescas by 2010 ...
a home in this village full of charm ...
And why not you ...
The town of Francescas offers some areas of subdivision in a
place called "The Avarches", each batch approximately 1000m2.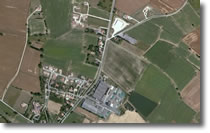 Also building land for crafts and SMEs can be proposed.
Equipment on site: water, electricity, roads, internet
Francescas is a autonom village 30 minutes from Agen, in a pleasant and preserved
region, close to all amenities, schools, shops (see here)
Thanks TWISTER installed in Francescas, city hall, school, tourist office, library,
several associations, business and individuals can benefit from broadband
Internet access and take part in the evaluation process the device.
Highway:

15-18 minutes

Airport:

15-18 minutes

Public transport service Francescas-Agen

Public transport service Francescas-Condom

3 times a week - monday, wednesday, staturday
to and from between 3 times a day
Project leaders, we are at your listening.
Feel free to contact us at any time ...

Terms & Conditions |Links | Homepage |Site Map
e-mail City Hall of Francescas 2010 -
all rights reserved
Conception et maintenance : e-kommunikation.com
All materials on this website © City Hall of Francesas .
Photographs courtesy of e-kommunikation.com ©