The Gerndarmerie Nationale
The national Police
Rue Gendarmerie
O553974375
Open for the public
Thursday from 14h - 18.30h
Outside these hours or
in case of emergency
please
ring and use the intercom
to be related
to a n operator of the Police
Most countries worldwide have implemented a number of emergency relief to join and it's simple to remember these numbers, also the call is free. For example:
Union europeenne and other europeen countries(here Switzerland) : « 112 »
« 15 » :

Samu

- for all medical problems

« 18 » : numer of the

fire brigade

, for fire and emergency operations and rescue;
A brief history of the building of the Force.

In 1645, Mr. Aubeterre requested permission to Antoine de Caux, Bishop of Agen, to establish a convent of friars at Francescas penitents, and thus we can conclude that none existed before that date.
One can start with the idea, it was a convent of 16-18th century, communication with the vessel arcade (home Cassède serving as school), was deleted during construction of the stairwell. Scores of both external and internal transformations do not allow us to trace the exact evolution.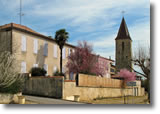 However, the discovery of human bones almost to the ground during work at the garage
to the east toward the church, we would indicate that it is possible that a cemetery
of this order existed in the enclosure of the convent at one time.

Terms & Conditions |Links | Homepage |Site Map
e-mail City Hall of Francescas 2010 -
all rights reserved
Conception et maintenance : e-kommunikation.com
All materials on this website © City Hall of Francesas .
Photographs courtesy of e-kommunikation.com ©