Primary school with canteen

70 pupils, boys and girls share classrooms and four teachers 5 / teachers providing primary education.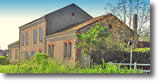 1xCE2 CMA ensemble
1 x CP CE 1
1 x maternelle
Tel. : +33 5 53 65 40 31
Brief History:
Education will become mandatory and therefore must be built a public school, which can get all children of the town.
Construction was completed in 1882.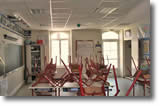 School Group built by Jean Bouyssou, entrepreneur Tonneins, both of L. Dubarry of Lassalle Agen architect. The land was purchased by the town in 1880. The main structure was completed in 1883. The building was restored and increased by two new classes in 1936, under the direction of Pujol, county architect.
Terms & Conditions |Links | Homepage |Site Map
e-mail City Hall of Francescas 2010 -
all rights reserved
Conception et maintenance : e-kommunikation.com
All materials on this website © City Hall of Francesas .
Photographs courtesy of e-kommunikation.com ©